Oil worker dies after falling overboard from Taqa platform Harding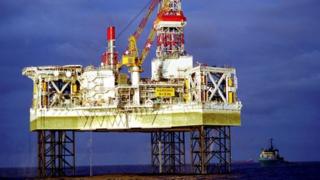 A 62-year-old oil worker has died after falling into the water from a North Sea platform.
He fell from the Taqa platform Harding, which is situated about 200 miles north east of Aberdeen and about 100 miles south east of Sumburgh, during "maintenance activity".
The man was recovered from the sea and airlifted to Gilbert Bain Hospital in Lerwick but could not be saved.
A Taqa spokesman said thoughts were with the family and friends of the man.
The company said it was trying to establish the cause of the incident, which happened shortly after 02:15.
Taqa said the Harding had 108 people on board, and all other personnel had been accounted for and were safe.
Production was being shut down and the number of platform staff was being reduced to 35.
The spokesman said: "Taqa regrets to confirm there has been a fatality on the Harding platform.
"A Taqa employee fell overboard during maintenance activity. He was recovered from the sea by a support vessel.
"Our immediate thoughts are with the family and friends of our colleague at this extremely sad time."
A response line for relatives has been set up on 01224 748118.
Police Scotland said: "The investigation is currently being treated as a work-related death."