Two special Scottish League Cup final trains announced from Aberdeen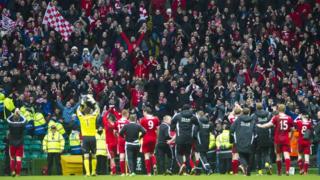 Two special trains for football fans from Aberdeen heading to the Scottish League Cup Final in Glasgow have been announced.
ScotRail will run the two trains - for up to 720 fans - on the morning of Sunday 16 March for the game against Inverness.
Tickets will go on sale at Pittodrie at 09:00 on Friday on a first-come-first-served basis.
ScotRail has said that alcohol would not be allowed on board the two trains.
Tickets for the game will go on general sale on Monday 10 March.
Season ticket holders have already been buying.
It was earlier announced two special ScotRail trains from Inverness would also be in place, providing up to 800 seats.
Tickets will go on sale on Saturday.