Aberdeenshire councillor Martin Ford cleared of Donald Trump code breach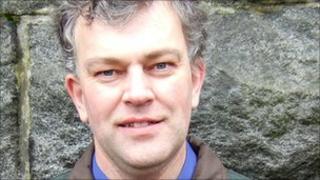 An Aberdeenshire councillor has been told he did not breach a code of conduct after referring himself to the Public Standards Commissioner.
Concerns were raised about Martin Ford's use of council property for the production of a television programme.
Mr Ford had been interviewed for the BBC's Panorama about Donald Trump and the Menie Estate golf development.
The commissioner concluded there was no breach of the Councillors' Code of Conduct.
Green councillor Mr Ford has been a vocal critic of the US billionaire's golf development.
Following the broadcast of the Panorama programme, the councillor said he received a series of letters from the local authority's chief executive suggesting that the interview should not have been given on council premises.
He then decided to refer himself to the commissioner.
He said: "Councillors have a duty to to be open about what they do and answer journalists' questions. It is an essential part of the democratic process. The judgement reflects and acknowledges that.
"I was clear from the outset that the interview was not even remotely close to being a breach of the code of conduct."