Aberdeen's private Hamilton School to close down amid investigation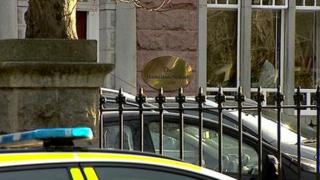 An Aberdeen private school at the centre of an investigation is to close.
The Care Inspectorate issued an improvement notice to the Hamilton School following an inspection in conjunction with Education Scotland.
BBC Scotland revealed the Registrar of Independent Schools has now said the school will not re-open on Monday.
HM Inspectors were not confident that the children were "safe and well cared for".
They intervened in two lessons where "serious health and safety risks were observed" and also referred three child protection cases to Police Scotland.
The report said: "The school has an outdated and punitive approach to managing children's behaviour. There is no promotion of positive behaviour strategies by staff and there is little or no emphasis on rewards and recognition of children's achievements.
"As a result, the behaviour of too many children in the school is very poor."
The inspectors also saw evidence of three different child protection policies and said it was unclear which version staff were implementing.
They also found that confidential and highly sensitive information about children was stored inappropriately. Inspectors found "Child of Concern" files stored on the floor under the desk of the owner/manager in her unlocked office.
'Negative ethos'
The inspectors said some staff were found to be failing to interact with babies and younger children, and many staff reported that babies and young children in distress were ignored, and that it was school policy to do that.
Across the primary and S1 classes, staff did not know what they wanted children to learn.
The inspectors also said most teaching staff did not have the necessary teaching qualifications, skills and experience to support children's learning and to ensure they were making appropriate progress.
They added that the curriculum being taught at The Hamilton School had "no coherence" and was "unsatisfactory".
The report also said children with specific and complex additional support needs were not being well served by the school.
The school also had "no clear leadership and management structure".
HM Inspectors concluded their report saying: "Due to the extreme and serious management failings, along with the endemic, negative ethos within the school, HM Inspectors are not confident that children at the Hamilton School and Nursery are safe.
"In addition, the wellbeing and welfare of staff is of major concern."
A Hamilton School spokesman later said: "We are stunned by this decision and don't believe it's in the best interests of the children, their parents or the 85 staff employed here.
"An appeal is under active consideration.
"In nearly 40 years of business we have had thousands of satisfied parents and children and the majority of those whom we have spoken to over the past few weeks have remained happy with the school and have been very supportive."
One parent told the BBC Scotland news website: "We are shellshocked - this seems to be a very extreme reaction, it is so sudden."
Another criticised a "lack of information" over the allegations against the school.
He said: "It is an absolute disgrace. I don't understand why they can't tell us what is wrong".
The parent also said he had made several calls to a Care Inspectorate parents' helpline which had not been answered despite the inspectorate saying it would staffed on Friday evening and through the weekend.
'No alternative'
A Scottish government letter to parents read: "It is with regret that we must inform you that HM Inspectors have concluded that they are not confident that children attending The Hamilton School are safe and well cared for.
"Scottish ministers have considered the information provided by the Education Scotland inspection and concluded that, as the welfare of pupils is not being adequately safeguarded and efficient and suitable instruction is not being provided, the school should be removed from the Register of Independent Schools.
"The proprietors of the school are entitled to appeal this decision to the Sheriff Principal within 28 days.
"However, subject to that, the school will not be able to operate. The operation of the school whilst unregistered is a criminal offence."
The letter said an assessment of the nursery section was "being taken forward as a matter of urgency".
It explained legislation covering nurseries is separate from that relating to school inspections.
The Care Inspectorate said it had sought suspension of the nursery's registration, and that a sheriff had fixed a hearing for Wednesday.
Parent meeting
Minister for Learning Alasdair Allan said: "The safety, wellbeing and education of children is our absolute priority.
"There is clear evidence from the HM Inspectors report that there have been serious failings in the school.
"They have said it is simply not safe for children to go there and so we have had no alternative but to order the school closed immediately."
A letter from Aberdeen City Council said a meeting for affected parents would be held at Harlaw Academy on Saturday at 10:30.
Provision is being arranged for children from Monday, at Braeside School.
A contact number for parents has been set up on 01224 814828.
It was revealed earlier this month that two women, aged 65 and 25, were being reported to the procurator fiscal following inquiries.