'Skipper at fault' for sinking of fishing boat in Lerwick harbour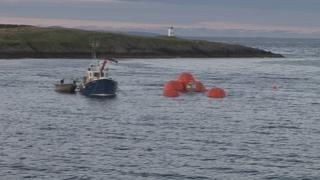 An investigation into why a fishing boat sank in Lerwick harbour has concluded the skipper was at fault.
A Marine Accident Investigation Branch report found the skipper of the Prospect had been distracted by using his mobile phone while changing course.
The volume on his on board radio was so low he failed to hear two warnings from the Shetland port's watch keeper.
The Banff-registered boat was leaving the harbour when it hit a rock in August last year.
The crew of four were rescued by lifeboat.
Skipper Neil King, of Macduff, who has nearly 40 years experience in the fishing industry, has been advised to attend a navigation skills refresher course.