Firefighters tackle Aberdeen esplanade blaze at Jimmy Chung's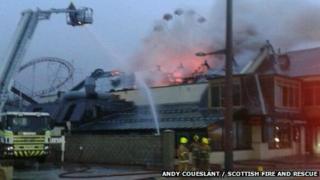 More than 60 firefighters tackled a major blaze on the beach esplanade in Aberdeen.
Eight crews were sent to the fire in the basement of Jimmy Chung's restaurant at about 04:20. That number later increased to 10.
Flames destroyed the roof of the building, despite the efforts of crews using a specialist height vehicle. There were no reports of any injuries.
Firefighters withdrew for safety when it was clear there was no-one inside.
The esplanade was closed as a result of the fire, but later reopened for pedestrians.
The Scottish Fire and Rescue Service said smoke spread to adjacent buildings in the windy conditions.
The cause of the blaze will be investigated.
Area commander Andy Coueslant said: "I am impressed with the hard work and professionalism by the crews in challenging conditions.
"I would like to express my thanks to our partners in Police Scotland and Scottish Ambulance Service for their support."
Inspector Iain MacLelland added: "I would like to thank the business community for their support while the emergency services deal with this incident.
"Members of the public should be aware that there will be some disruption for traffic whilst the Scottish Fire and Rescue Service deal with the fire and until the building is structurally safe."