Teenager tells Aberdeen court of 'ill-treatment'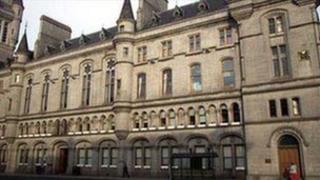 A teenager has told a court that a man put a bowl on her head and cut her hair to make her look like a boy.
The 18-year-old girl claimed Norman McConnachie used kitchen scissors to chop her shoulder-length bob after she had dyed it.
The 42-year-old fitness instructor and Rachel Boyd, 39, are on trial.
They deny wilfully ill-treating two schoolgirls in a manner likely to cause them unnecessary suffering or injury to health.
The teenager told Aberdeen Sheriff Court that Boyd plugged in electric dog clippers and used them to cut her hair.
She said Mr McConnachie told Ms Boyd to get the clippers and then he placed a cereal bowl on her head and started to use scissors because her hair was a bit too long.
She told the court: "He said I'm going to make your hair into a boy's hairstyle so you look like a boy.
"So he got a white bowl and placed it on my head."
Activity centre
She told the jury that her hair was cut "really short" and she had stubble at the back when the incident happened in either 2009 or 2010.
The student, who cannot be named, claimed she was driven to an activity centre with a schoolgirl on another occasion in Mr McConnachie's jeep.
She said the girls were given weights and told to run in really deep snow while he was screaming at them.
The teenager said the girls were then told to do press-ups and claimed Mr McConnachie pushed her head into the snow when she didn't do them right.
She described Mr McConnachie as a "threatening, intimidating man".
Earlier the other girl told the court that the physical training instructor told her to eat out of a dog bowl after she spilled juice in a house in Aberdeenshire.
The 17-year-old said the incident happened in the kitchen of the property in 2010.
'Manky bowl'
She said Mr McConnachie tipped her food into a "manky" dog bowl and told her to eat it but she refused.
She told the jury: "He was telling me to eat it and eat it and I said no and no."
The teenager said she then left the room.
The court heard Ms Boyd was also in the property when the incident allegedly happened in 2010.
The schoolgirl told the jury that she spoke to one of her parents a couple of years later and she was taken to a police station.
She said she was interviewed and told the police about "everything that was happening".
Military fitness
The court heard Mr McConnachie held physical training classes at Duthie Park and Seaton Park in Aberdeen on weekday afternoons and nights.
The 17-year-old girl said he normally wore a military fitness outfit and army trousers.
Defence lawyer David Moggach asked the teenager whether she was keen on keeping fit.
She replied: "I did try yes."
Mr McConnachie and Ms Boyd, of Newtonhill, both face two charges of wilfully ill-treating girls at a property and an activity centre in Aberdeenshire between 1 January 2006 and 30 June 2012.
They are claimed to have forced the girls to engage in physical exercise in snow while wearing inappropriate clothing and footwear for the weather conditions.
Mr McConnachie is further accused of sexually assaulting the girls by handling their breasts and kissing them on the mouth in 2011.
Mr McConnachie and Ms Boyd deny all charges.
The trial continues.