Malcolm Webster murder: March date for sentence appeal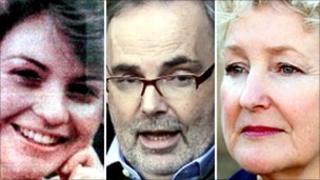 A man found guilty of murdering his wife in a car crash in Aberdeenshire will return to court next month as he tries to have his sentence cut.
Malcolm Webster, 54, originally from Surrey, was jailed for a minimum of 30 years for murdering Claire Morris in Aberdeenshire in 1994.
He was also convicted of staging a similar attempt to murder his second wife in New Zealand.
Webster was found guilty in 2011 of murdering Ms Morris.
He lost an earlier appeal against conviction, and 14 March has now been set as the next court date as he tries to appeal the sentence.
Ms Morris, who had been married for just eight months, was originally from Kent.
The death of the 32-year-old was investigated but was treated as a tragic accident.
Her husband survived, and went on to marry Felicity Drumm in 1997.
In 1999, the couple were involved in a car crash in New Zealand, with Webster again driving.
It set in motion a police inquiry spanning the globe, as more questions were posed about what exactly had happened in both cases.