Hamilton School Nursery improvement notice amid 'serious concerns'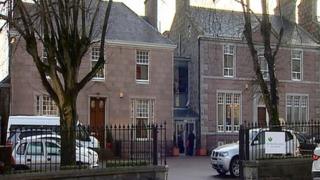 An improvement notice has been served on an Aberdeen private school at the centre of complaints over the quality of care given to children there.
The Care Inspectorate has taken the action at The Hamilton School Nursery.
It sets out actions the nursery must take to safeguard the health, safety and wellbeing of children.
It was revealed last Thursday that two women, aged 65 and 25, were being reported to the procurator fiscal following inquiries.
The improvement notice comes as a result of a joint inspection with Education Scotland in recent days.
'Cooperated fully'
Director of Inspection Dr Robert Peat said: "A more detailed report of our inspection will be published in due course, but on Friday and Monday we identified serious concerns about medication and nutrition.
"The health, safety and wellbeing of children is our top priority, so we have served an improvement notice on the nursery.
"We require specific, urgent changes to be made in the coming days and are working closely with the nursery to give them the necessary support and advice.
"We are working with the school to make these improvements but will not hesitate to act further if necessary. Anyone with concerns can contact us on 0845 6009527."
A spokesman for the Hamilton School said: "We have cooperated fully with the Care Inspectorate and will continue to work closely with them and ensure that the welfare of the children in our care is our top priority."