Peterhead fishing boat Fear Not being towed to harbour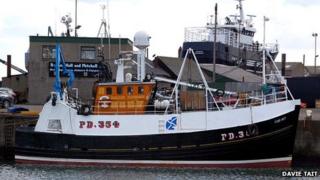 A rescue helicopter, a lifeboat and other vessels went to the aid of a Peterhead-registered fishing boat taking on water off Lewis.
The Fear Not, with six people on board, raised the alarm shortly before 09:00.
It had hit problems 15 miles off Stornoway.
The Stornoway Coastguard search and rescue helicopter took a mobile pump to the stricken craft. The plan was to tow the Fear Not to harbour for repairs.