'Ruthless' Aberdeen rapist William Fraser jailed for nine years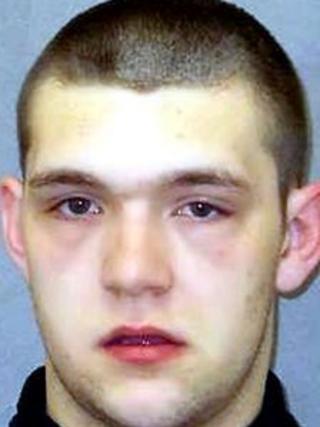 A man has been jailed for nine years for the rape and abduction of a young Polish woman in Aberdeen.
William Fraser - described by police as "ruthless" - carried out the attack in October last year.
The 22-year-old victim gave evidence from behind screens, and broke down in tears when shown photos of her injured face after the attack.
At the High Court in Aberdeen, Fraser was sentenced to nine years in prison, plus a four year extended sentence.
The 22-year-old was also placed on the sex offenders register.
The attack in October 2012 sparked one of the biggest police investigations in Aberdeen in recent years.
The court heard that Fraser's victim was walking home from work in the early hours of the morning when Fraser dragged her into a narrow lane in the Powis area of Aberdeen, where she was assaulted and robbed..
She was then taken to a grassy area nearby, where she was raped.
During the ordeal Fraser also subjected his victim to racial abuse.
The woman, who had come to Scotland to study, said she thought Aberdeen was "the safest place in the world".
She said she thought she was going to die during the attack.
Speaking after the sentencing Andy Shanks, High Court procurator fiscal for the north of Scotland said: "This was a despicable attack on a defenceless young woman, picked at random as she walked home from work.
"William Fraser will now face many years behind bars as a consequence of his actions.
"Prosecutors take the crimes of rape and sexual offences extremely seriously and are committed to ensuring that all such cases are investigated thoroughly and prosecuted appropriately."
He added: "Victims can have confidence that their cases will be handled by specialists, who are committed wherever possible to bringing those who commit sexual offences of any kind to justice."
Police Scotland welcomed the sentencing and said the investigation had been one of the largest ever conducted by the then Grampian Police.
Det Supt Martin Dunn said: "This was an horrific attack by someone who has shown no remorse for his actions throughout our investigations and the court proceedings.
"I want to commend the courage of the woman who came forward and again thank the community and our partners for their support in bringing this investigation to a successful conclusion.
"I hope that the sentencing result today gives some closure to the woman."