Donald Trump withdraws application for second golf course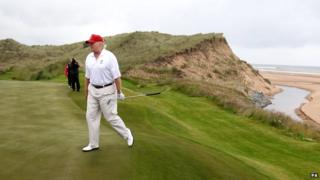 Donald Trump has withdrawn a planning application to build a second golf course at his Aberdeenshire resort.
Aberdeenshire council said plans for the McLeod course at the Menie Estate were only received earlier this week.
But the local authority now says it has been asked to withdraw the application.
After losing a Court of Session challenge to stop an offshore windfarm being developed nearby, the Trump Organisation said it had acquired a golf course in Ireland.
It added that it would focus all its investment and energy on the Irish course.
Mr Trump's team have turned down repeated requests to clarify their position regarding their Scottish investment.