Super Puma inquiry: Sheriff does not order CAA to disclose audits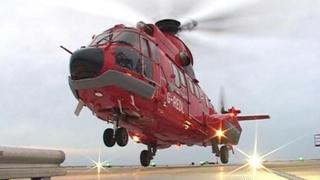 A sheriff has refused to order the UK air safety regulator to disclose its maintenance audits of the Super Puma that crashed in the North Sea with the loss of 16 lives in 2009.
All those on board the Bond helicopter died when it came down.
The legal representative of the Civil Aviation Authority told an inquiry a request for the audits amounted to a fishing expedition.
Sheriff Principal Derek Pyle refused the request.
The request had been made by the lawyer representing families of the victims.
Tom Marshall claimed he would be questioning CAA witnesses "blind" without the documents.
The AAIB pinpointed a catastrophic failure of the gearbox for the crash.
The fatal accident inquiry in Aberdeen continues.