Salmon season launched on River Dee and River Teith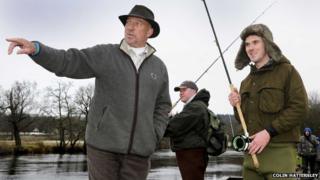 The salmon season is under way on some of Scotland's rivers, with new measures designed to stop the decline of spring salmon and sea trout.
Former Formula One team boss Ross Brawn made the ceremonial first cast on the Dee, in Aberdeenshire, and cricketing legend Sir Ian Botham joined anglers at the River Teith in Callander.
A new scheme aimed at cutting illegal fishing was launched in Stirling.
Extra patrols have also been promised on the Dee to try to tackle poaching.
Concerns have been raised that poachers are targeting the Dee, and police have warned they will have dedicated patrols from wildlife crime officers on the riverbank during the season.
They will also visit local restaurants to ensure they are sourcing their salmon legally.
Angling on the world-famous river is believed to generate £15m in revenues each year, and supports an estimated 500 jobs.
As the salmon season got under way, Mark Bilsby, the Dee's river director, announced two initiatives to help conservation.
Officials are this year backing a scheme to open access for salmon and sea trout to 80 miles of tributaries. Mr Bilsby said it would provide new spawning areas, and help produce more returning salmon in future.
He also announced plans to recruit an army of volunteers to clear the river of alien plant species.
Ross Brawn, the former F1 team principal, who is widely credited with masterminding Michael Schumacher's seven world titles, was joined by hundreds of anglers and river workers at the ceremony at Potarch Bridge.
Meanwhile in Stirling, the city's Provost Mike Robbins, Sir Ian Botham and scores of anglers were piped to the River Teith by The Tulliallan Pipe Band, before Sir Ian performed the official toasting ceremony to mark the opening of the season.
Launching the Riverwatch scheme, the Provost said: "We're working with our partners to increase public awareness of river-associated crime in an effort to protect this valuable commodity."
Sir Ian said: "It was an excellent turnout and everyone was eager to start fishing again. There was a real sense of anticipation as the anglers took to the river again."
Stirling Council agreed to introduce strict new catch-and-release rules for salmon and sea trout in 2011.