Bravery award helicopter winchman Andrew Cowx faces hearing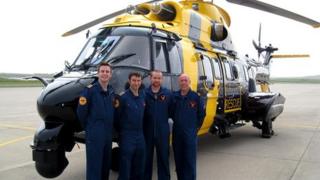 A helicopter winchman who won a bravery award for his role in a rescue from a stricken North Sea supply boat is facing a misconduct hearing.
Andrew Cowx is alleged to have not given proper care to patients while working as a paramedic for the Scottish Ambulance Service.
The allegations date back to 2011.
Mr Cowx received a bravery award for the rescue of crewmen from the Vos Sailor during a storm in the North sea in December 2012.
High seas with strong winds were causing the vessel to move violently.
In the dark, the winchman was successfully lowered to the vessel, but landed heavily on the deck as it pitched and suffered serious foot injuries.
However, he continued with the rescue.
Vos Sailor crew member Joseph Laws, 50, of Hull, died when the supply vessel was damaged about 120 miles off Aberdeen.
In the first Health and Care Professions Council (HCPC) case, Mr Cowx is said to have failed to carry out an adequate assessment of a patient after an emergency call.
It is claimed he incorrectly assessed the woman had a sprained ankle and advised her to go home instead of taking her to hospital.
A month later during another emergency call, it is alleged Mr Cowx again failed to adequately assess a patient or administer pain relief for a back injury.
He will face a fitness to practise hearing next month.
Bond helicopter crew members Mr Cowx, Graham Stein, Nick Smalley and Paul Walters were honoured by the Shipwrecked Mariners' Society in October.
Mr Cowx also received an individual commendation.