Richard Durkin's laptop wrangle with HFC bank under way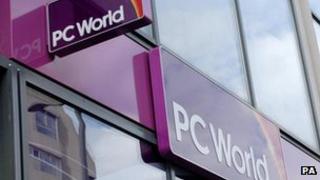 A hearing about a 16-year dispute over a laptop bought at the Aberdeen branch of PC World is under way at the Supreme Court in London.
Richard Durkin, 44, claims the HFC bank ruined his credit rating after he tried to back out of an agreement to buy a £1,499 computer in 1998.
Mr Durkin took his case to court and initially won.
Appeal court judges later ruled the credit agreement was separate and he was not entitled to cancel.
Mr Durkin had handed over £50 and signed a credit agreement with HFC, but claims he was told by a sales assistant at the store in Aberdeen that the laptop could be returned if it had a problem.
He discovered the laptop did not have an inbuilt modem.
He was eventually paid back the £50 by PC World, but HFC said he was still required to make payments under the terms of the credit agreement.
In 2008 Aberdeen Sheriff Court ruled that he was entitled to reject the laptop and cancel the sale and the credit agreement and awarded damages of £116,000.
The decision was overturned two years later by judges at the Court of Session in Edinburgh.
The panel of Supreme Court judges are expected to reserve judgement on whether there was a valid loan agreement.