Improvement call for NHS Grampian at Dr Gray's Hospital in Elgin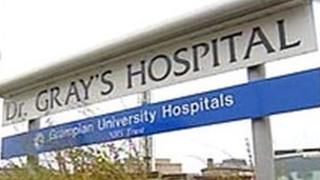 NHS Grampian has been told to make improvements at Dr Gray's Hospital in Elgin.
Healthcare Improvement Scotland found 14 areas where improvement was required in a report which followed an unannounced inspection in November.
This included poorly-managed mealtimes, a lack of personalised care plans, and wards which were not dementia-friendly.
NHS Grampian said it had an action plan in place.
The report did find patients were treated with dignity and compassion, and there was good leadership on wards.
Jacqui Macrae, head of quality of care, said: "This inspection resulted in one area of strength, 14 areas for improvement and three areas for continuing improvement.
"We expect NHS Grampian to address the areas for improvement we have identified."
An NHS Grampian spokesman said: "The report did find areas for improvement.
"This is disappointing for a hospital with a good record in the care of older people, and these issues are being addressed as a matter of urgency."