Helicopter safety briefings to be amended over AAIB concerns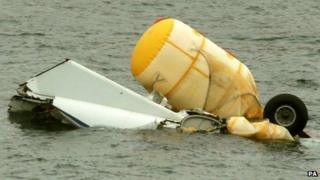 Helicopter operators are to amend pre-flight safety briefings in the wake of four people dying in a Super Puma crash off Shetland.
Fourteen people survived the crash last August.
The Air Accidents Investigation Branch (AAIB) has issued a special bulletin over concern about briefings on the functionality of emergency equipment provided to passengers.
It centres on emergency breathing systems (EBS).
Three of the four victims of the Super Puma helicopter crash drowned, BBC Scotland revealed in December.
The AAIB said: "Incomplete information in the pre-flight safety briefing material may give passengers the false impression that hybrid rebreathers are only of benefit if the user has taken a breath prior to becoming submerged.
"Knowledge that hybrid rebreathers contain their own supply of air may therefore influence a passenger's decision on whether or not to use the EBS in an emergency situation.
"The AAIB has approached the main helicopter operators flying in support of the UK oil and gas industry, whose passengers are equipped with a hybrid EBS.
"The operators have undertaken to amend their pre-flight briefing material to include information that the hybrid system contains its own air supply which is discharged automatically, making the system usable even if the wearer has not taken a breath before becoming submerged."
Sarah Darnley, 45, from Elgin, Gary McCrossan, 59, from Inverness, Duncan Munro, 46, from Bishop Auckland, and George Allison, 57, from Winchester, lost their lives when the helicopter went down on approach to Sumburgh Airport on 23 August.