Orkney Islands Council left with extra wheelie bins worth £188,000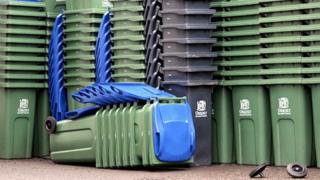 Councillors in Orkney are demanding an investigation after being left with thousands of extra wheelie bins worth more than £180,000 for a new waste disposal scheme.
The bins have been issued to more than 9,000 households over the past two years.
Orkney Islands Council has been left with 9,500 spares, worth £188,000.
The authority is looking at possible uses for the bins but admitted it was not an ideal situation.
A spokesman said that "in hindsight some of the planning assumptions that had underpinned the project had resulted in some unforeseen outcomes".