Skerries school secondary closure in Shetland not being called in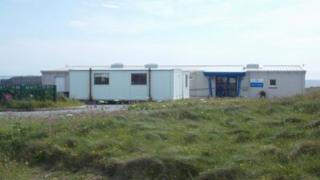 A controversial decision to close Scotland's smallest secondary school - Skerries in Shetland - will not be called in by the Scottish government.
The school, which has three pupils, serves the Out Skerries - a small smattering of islands an hour and a half's ferry journey east of the Shetland mainland.
Shetland Islands Council made the decision to close it on the casting vote of its convener in December.
It is set to close in the summer.
The original decision came after a two-and-a-half hour meeting ended in a 10-10 vote.
The council had previously argued that Skerries pupils would get a better schooling if they were educated in Lerwick, and that closing the school would save almost £74,000 a year.
Islanders - who fear closure could force many families to leave the small island community - had hoped the decision could be reversed.
Shetland Islands Council said the department would close from 4 July and the pupils would continue their education at Anderson High School from 20 August.
Vaila Wishart, chairwoman of the education and families committee, said: "This has been a long and difficult process, and parents and pupils at Skerries School secondary department will undoubtedly be disappointed with the decision.
"However, we can reassure them that our main aim now is to make the transfer as seamless as possible, and to support pupils throughout the coming months.
"I will be asking officials to look into the possibility of changing the ferry times so the pupils can come out on Monday mornings instead of Sunday nights as commented on by the Scottish ministers."