Super Puma fatal accident inquiry: Metallic chip detected 15 minutes before crash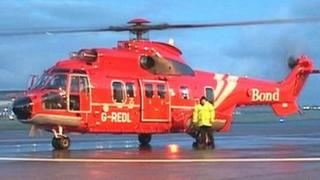 A metallic chip was detected in part of a helicopter gearbox 15 minutes before it crashed with the loss of 16 lives, an inquiry has heard.
All those on board the Bond Super Puma died when it came down in April 2009.
The 12th day of fatal accident inquiry in Aberdeen heard analysis of software after the crash showed a metallic chip had been detected a quarter of an hour before the crash.
A catastrophic gearbox failure was blamed.
The Health and Usage Monitoring System (HUMS) system which detects mechanical faults onboard the helicopter showed chips were also found on 24 March and 25 March.
Witness Brice Fernando, from Super Puma manufacturer Eurocopter, claimed Bond engineers did not tell him about a chip found on part of the gearbox a week before the crash.
He said he only found out about it after crash.
Not interviewed
Mr Fernando gave advice to Bond engineers in his role as HUMS expert.
He confirmed he was not interviewed by the Air Accidents Investigation Branch (AAIB), which pinpointed the failure of the gearbox for the crash.
The two crew who died were Capt Paul Burnham, 31, of Methlick, Aberdeenshire, and co-pilot Richard Menzies, 24, of Droitwich Spa, who worked for Bond Offshore Helicopters.
The KCA Deutag employees killed were Brian Barkley, 30, of Aberdeen; Vernon Elrick, 41, of Aberdeen; Leslie Taylor, 41, of Kintore, Aberdeenshire; Nairn Ferrier, 40, of Dundee; Gareth Hughes, 53, of Angus; David Rae, 63, of Dumfries; Raymond Doyle, 57, of Cumbernauld; James John Edwards, 33, of Liverpool; Nolan Goble, 34, of Norwich, and Mihails Zuravskis, 39, of Latvia.
The other victims were James Costello, 24, of Aberdeen, who was contracted to Production Services Network (PSN); Alex Dallas, 62, of Aberdeen, who worked for Sparrows Offshore Services; Warren Mitchell, 38, of Oldmeldrum, Aberdeenshire, who worked for Weatherford UK; and Stuart Wood, 27, of Aberdeen, who worked for Expro North Sea Ltd.
The inquiry continues.