Firefighters extinguish serious garage blaze in Keith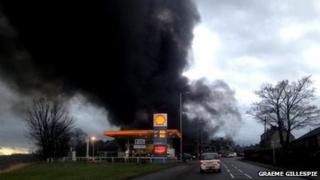 More than 30 firefighters have extinguished a serious blaze at a garage in Moray.
The fire broke out shortly before 09:00 at the DC George garage in Keith, and closed the A96 at Regent Street.
Four appliances from Rothes, Dufftown, Fochabers and Huntly were supported by crews from Aberdeen and Buckie.
Station Manager Shaun Burns said: "Our crews did an excellent job and put in a huge amount of effort to bring this fire under control."
He explained: "When we arrived and realised there were acetylene cylinders involved we had to tailor our response appropriately.
"We used ground monitors. This allowed us to have jets in place and keep firefighters at a safe distance to maximise safety.
"We also used two main jets to fight the fire at the front and rear of the garage."
He added: "It became apparent that there was an oil tank at the rear of the premises so we had to use a cover jet to protect that from the fire."
He added: "The garage itself was standalone and therefore there was no risk to other properties in the area.
"The incident is now under control and our crews will remain at the scene and continue the damping down operation."
There were no injuries.
Did you take pictures - stills or moving - of the fire? Send them to the BBC Scotland news website at newsonlinescotland@bbc.co.uk
Please ensure when filming or photographing an incident that you make your safety and the safety of others a priority.
If you submit an image, you do so in accordance with the BBC's Terms and Conditions.