Helicopter probe MPs to visit Aberdeen to take evidence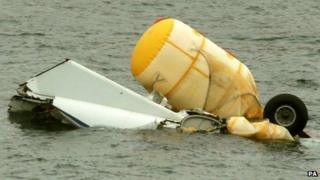 A committee of MPs is to take evidence in Aberdeen as part of its inquiry into offshore helicopter safety.
The Commons Transport Select Committee launched an investigation after four oil workers were killed in a helicopter crash off the Shetland Isles in August.
It was the fifth incident in four years. MPs said the frequency of these accidents is a major cause for concern.
The committee is to hold an open evidence session at Aberdeen University next Monday.
The MPs will also meet operators and manufacturers.
Committee chairman, Louise Ellman MP, said: "We are looking at helicopter safety in relation to offshore installations.
"This was sparked off by the fatal accident last August when the Super Puma helicopter crashed into the sea near Shetland.
"This was the fifth serious accident in four years and really put into focus the importance of this issue."
Sarah Darnley, 45, from Elgin, Gary McCrossan, 59, from Inverness, Duncan Munro, 46, from Bishop Auckland, and George Allison, 57, from Winchester, lost their lives when the helicopter went down on approach to Sumburgh Airport on 23 August.