Aberdeen sexual assault George at Asda jacket image released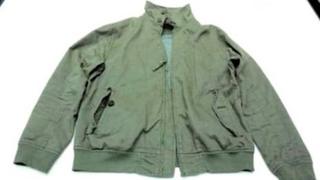 Police investigating a sexual assault in Aberdeen have released a photo of the jacket the suspect left behind.
The incident happened in the 'Woodies' area near Broomhill Terrace on the evening of Wednesday 11 December.
The khaki canvas jacket is the George brand from Asda.
The suspect is described as a white man, aged 20-30, 6ft tall, of medium build, with a "chiselled jaw", and short brown hair.
He was also wearing a white and yellow short sleeved striped polo shirt, and blue jeans.
Det Con Kirsty Munro said: "I would urge anyone who recognises the description of this male or the image of the jacket to make contact with the police and pass on their details.
"It may be that you know someone who once had the jacket but doesn't anymore."