Super Puma fatal accident inquiry: Computer found metallic chip detections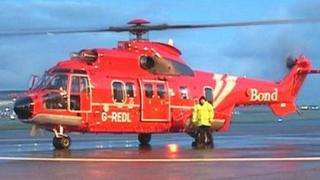 A helicopter had already been cleared to fly when a computer system found 94 metallic chip detections in its gearbox eight days before it crashed, a fatal accident inquiry has heard.
The Bond helicopter came down in April 2009, leaving all 16 men on board dead.
Engineers discussed calling the helicopter back once the fault was found but a decision was taken not to do so.
It was taken out of service once it returned on 25 March 2009.
At the time there was no requirement for the Health and Usage Monitoring System (HUMS) - which detects mechanical faults - to be fully downloaded from the helicopter before a flight could take off.
Giving evidence on the fifth day of the inquiry in Aberdeen, former Bond engineer Charles Verner Hill, said he was informed of the problem by a colleague.
He said: "While having a tea break he came and got me and informed me there was an anomaly in Delta Lima's ground station."
He said he discussed the anomaly with his line manager John Crowther and asked him whether the helicopter should be called back.
He said: "I wasn't told to recall it."
When the helicopter returned Mr Hill and colleague Lee McGill examined the gearbox and the fault detector.
"Mr McGill didn't find anything and when I recovered the epicyclic and held it up to the light I didn't see any particles.
"We took the card in again and downloaded the data from that flight and there was still an indication on it and I wasn't happy with that."
Gearbox replaced
The helicopter was taken out of service and the particles were discovered later in the day.
The inquiry also heard that the gearbox of the helicopter was almost fully replaced a year before the accident.
Bond's maintenance manager in Aberdeen, Ronald Wright, said the work happened between 9 April and 11 April 2008.
After examining work logs he was unable to say whether the replacement gearbox had been new or overhauled.
All but one component of the gearbox was replaced between those dates with the last portion being replaced six months later.
He said a gearbox would expect to have a service life of 2,000 hours.
An Air Accidents Investigation Branch report blamed a catastrophic gear box failure for the crash, which happened 12 miles off Peterhead.
The two crew who died were Capt Paul Burnham, 31, of Methlick, Aberdeenshire, and co-pilot Richard Menzies, 24, of Droitwich Spa, who worked for Bond Offshore Helicopters.
The KCA Deutag employees killed were Brian Barkley, 30, of Aberdeen; Vernon Elrick, 41, of Aberdeen; Leslie Taylor, 41, of Kintore, Aberdeenshire; Nairn Ferrier, 40, of Dundee; Gareth Hughes, 53, of Angus; David Rae, 63, of Dumfries; Raymond Doyle, 57, of Cumbernauld; James John Edwards, 33, of Liverpool; Nolan Goble, 34, of Norwich, and Mihails Zuravskis, 39, of Latvia.
The other victims were James Costello, 24, of Aberdeen, who was contracted to Production Services Network (PSN); Alex Dallas, 62, of Aberdeen, who worked for Sparrows Offshore Services; Warren Mitchell, 38, of Oldmeldrum, Aberdeenshire, who worked for Weatherford UK; and Stuart Wood, 27, of Aberdeen, who worked for Expro North Sea Ltd.