Trapped grey seal returned to sea in Aberdeenshire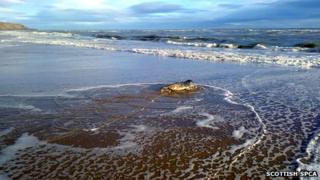 A seal found tangled in netting in Aberdeenshire has been safely returned to the sea.
The Scottish SPCA was alerted by a member of the public who discovered the grey seal on the beach at Forvie National Nature Reserve.
Officers were able to cut the seal free, and watched him return to the sea.
Animal Rescue Officer Karen Hogg said: "It was a very happy ending for this seal."
She explained: "The net was tangled around the seal's neck and it was so tight that we struggled to even get one finger underneath it.
"Thankfully, the seal lay very still for us while we cut the net away and we were able to free him relatively quickly.
"The net would eventually have cut through his skin, which could have resulted in septicaemia or other infections, so we're extremely grateful to the lady who alerted us.
"She even stayed with the seal until we arrived which was really kind.
"Once we had removed the net there was a lovely moment when the seal turned to look at us before heading back into the water.
"I'm so glad we were able to help."