Pupils start at Orkney's new Kirkwall Grammar School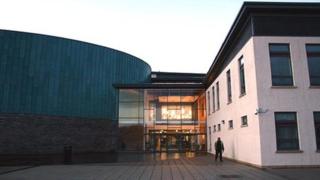 Orkney pupils have been getting their first day of lessons at the new Kirkwall Grammar School.
The new school is the final, and largest, element of a £50m investment in infrastructure in the islands.
It has also included the building of two new schools, a new swimming pool, and theatre.
Head teacher Sheila Dick said there had been an enormous amount of work ahead of the move. The old school was built in the early 1970s.