Super Puma fatal accident inquiry: 'Anomaly' in helicopter work logs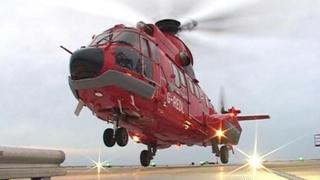 Technical logs relating to the maintenance of a helicopter that crashed into the North Sea killing 16 men appear to have an "anomaly", a fatal accident inquiry has heard.
The Bond helicopter came down in April 2009, having been passed fit for service the day before.
James Gilmour, former engineering director at Bond, said there appeared to be an anomaly in paperwork.
But he said the company had enough staff on shift to carry out the work.
The inquiry was shown technical logs demonstrating that checks carried out on the helicopter that day were completed between 09:30 and 09.40.
Solicitor advocate Tom Marshall, representing many of the families of those who died, said the timeframe "did not seem feasible".
Mr Gilmour told the fourth day of the inquiry he did not believe that 10 minutes was long enough for all the work to be carried out.
He said: "There is an anomaly there, I think. Ten minutes seems very tight."
'Good number'
Mr Marshall also questioned the number of engineers who were on shift the day before the fatal crash.
"Four men looking after eight helicopters seems quite a low number," he noted.
Mr Gilmour responded: "With the rosters we have, when the aircraft are actually flying we have turnaround inspections. I would say that was a good number to have involved in that.
An Air Accidents Investigation Branch report blamed a catastrophic gear box failure for the crash, which happened 12 miles off Peterhead and left no survivors.
The two crew who died were Capt Paul Burnham, 31, of Methlick, Aberdeenshire, and co-pilot Richard Menzies, 24, of Droitwich Spa, who worked for Bond Offshore Helicopters.
The KCA Deutag employees killed were Brian Barkley, 30, of Aberdeen; Vernon Elrick, 41, of Aberdeen; Leslie Taylor, 41, of Kintore, Aberdeenshire; Nairn Ferrier, 40, of Dundee; Gareth Hughes, 53, of Angus; David Rae, 63, of Dumfries; Raymond Doyle, 57, of Cumbernauld; James John Edwards, 33, of Liverpool; Nolan Goble, 34, of Norwich, and Mihails Zuravskis, 39, of Latvia.
The other victims were James Costello, 24, of Aberdeen, who was contracted to Production Services Network (PSN); Alex Dallas, 62, of Aberdeen, who worked for Sparrows Offshore Services; Warren Mitchell, 38, of Oldmeldrum, Aberdeenshire, who worked for Weatherford UK; and Stuart Wood, 27, of Aberdeen, who worked for Expro North Sea Ltd.