Toddler case highlights E. coli danger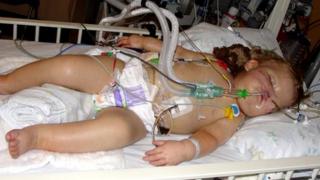 It is 08:00 and little Bo Cox is woken in his bed at Yorkhill Hospital for Sick Children in Glasgow for his almost daily dose of dialysis.
Almost instantly he is asking for water.
The three-year-old is only allowed a few small sips because he is restricted to just 200ml per day, but each mouthful is gulped down with enthusiasm.
Bo's mother Lucy has made the hospital trip each day for the past 18 months since the youngster was admitted with E. coli 0157.
He was one of four children and two adults to be infected at the Rose Lodge nursery in Aboyne last year and now requires round-the-clock care.
Ms Cox believes better education is needed about the dangerous effects of the bacterium which left Bo blind and almost deaf, with no working kidney and only a quarter of his bowel.
She told me: "He doesn't urinate and he has no way of getting rid of the fluid so that's where the dialysis comes in.
"Everything is measured; his input and his output, all his nappies are weighed.
"His weight and how much fluid he's put on gauges how long he'll be on dialysis and how much fluid they will have to remove at a time."
A report into the Aberdeenshire nursery blamed poor hand hygiene for the spread of the bug.
The consultant paediatric kidney specialist treating the youngster says Bo is the most severely affected surviving patient of the condition the hospital has ever had.
Ian Ramage added: "The effects are quite profound and affect many different organ systems.
"He's on nutrition through his vein as well as supplemental feeds through a tube into his stomach."
Bo's had 16 operations and, although his is an extreme case, Lucy believes E. coli is not taken seriously.
While violent, in most cases it clears up but with Bo the effects have clearly been devastating.
He does have moments of play and occasionally stays at his mother's new home in Glasgow.
But no care package has been agreed with the local authority to allow him to stay at home and Lucy says that is not helping improve his quality of life.
She said: "It's such a tragedy for Bo, he's lost so much and his future is so uncertain.
"Every day has a huge amount of suffering for him, whether it's the vomiting, the diarrhoea or the dialysis."
Glasgow City Council said he has "complex care needs" and that "progress is being made with the hope that Bo will be able to return home as soon as possible".
One day he may be able to receive a kidney transplant.
But his sight, hearing and damage to his bowel will never be fixed.
Lucy is angry at what happened but she hopes that by highlighting Bo's case it will make other nurseries take the issue of hand hygiene seriously and stop the spread of such a debilitating bug.