Safety recommendations after sinking of Audacious fishing boat in North Sea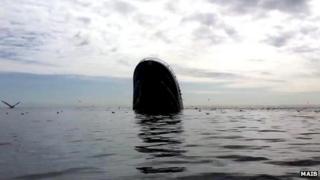 Marine accident investigators have made safety recommendations following the sinking of a Buckie-registered trawler in the North Sea last year.
The six crew of the Audacious had to be airlifted to safety in the North Sea more than 40 miles off Aberdeen.
The Marine Accident Investigation Branch (MAIB) said the sinking, in August 2012, was caused when the engine room flooded, overwhelming pumps.
It said a failure of the seawater cooling system was the likely cause.
An alarm activated in the wheelhouse but this went unnoticed at an early stage because the wheelhouse was unmanned for a period.
The MAIB has made a number of recommendations.
These include that the Maritime and Coastguard Agency (MCA) reviews its inspection regime, that the Audacious's owner ensures inspections and training are up to date, and that a continuous watch is maintained in the wheelhouse.
It is also urging the Scottish Fishermen's Federation (SFF) to encourage boat owners to inspect seawater pipework for corrosion.