Businessman Tom Smith resigns from Aberdeen regeneration board 'in protest'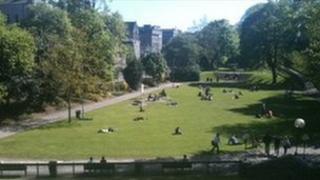 A prominent businessman has resigned in protest from the body set up to help regenerate Aberdeen city centre.
Tom Smith claimed the group had been managed for "purely political reasons" and had stifled debate.
The council set up the City Centre Regeneration Board after rejecting plans to transform Aberdeen.
On Wednesday afternoon, councillors pledged to work together to secure city centre regeneration.
Businessman Sir Ian Wood has made £50m available for a "transformational" project, but only until the end of the year.
The regeneration board will continue to work with potential external funders.
The plans to overhaul the city's landmark Union Terrace Gardens have been a controversial issue.
A £140m design to transform the gardens was snubbed by the council last year.
New proposals for a major renovation were unveiled in August.
Architect John Halliday's design would partly raise the sunken gardens, and see the rail line and Denburn dual carriageway covered over to link to Belmont Street.