Scottish fishermen 'relieved' after no cuts to days at sea agreed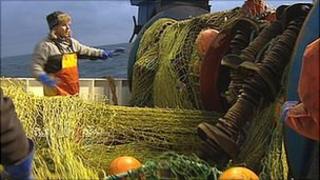 Scottish fishermen's leaders have said they are relieved at a deal struck in Brussels to set next year's catch limits.
There will be no reduction in the number of days boats may go to sea.
Cuts to quotas of monkfish will not be as deep as planned, and proposed reductions in west coast whiting have been abandoned.
Fishermen will also get help towards a ban on discarding fish.
Quotas for other key stocks will be set next year.
Scottish Fisheries Minister Richard Lochhead said the talks had secured important flexibility for the industry's future.
He added: "This means our fishing fleet can achieve a better balance between having quota to catch and enough days at sea to catch it.
"This is the second year in a row without days at sea cuts but it is a great pity that that we arrived at these talks with this cloud of uncertainty still hanging over the fleet.
"As for the 2014 quotas, there was the usual mixed bag with some quotas increased and others reduced in line with long term management plans and scientific advice."
'Common sense'
He added: "We can now start to look ahead to 2014 to the implementation of the long overdue reformed of the Common Fisheries Policy (CFP) which has done so much damage to the Scottish fishing industry."
UK Fisheries Minister George Eustice said "the best possible deal" for ensuring sustainable fisheries had been reached after "difficult negotiations".
He added: "It was my top priority to ensure that days at sea for fishermen would remain the same next year and that is exactly what has been achieved.
"I entered these discussions with the firm belief that any decisions on quotas or days spent at sea need to be based on three clear principles; following scientific advice, fishing sustainably and the need for continued reduction in discarding. We stuck to these principles throughout."
Bertie Armstrong, chief executive of the Scottish Fishermen's Federation, said: "Freezing the effort at its current level was entirely the common sense approach to take."
"Many of the cuts tabled were larger than would normally be the case because of the EC's move towards the principle of 'Maximum Sustainable Yield', and there is no doubt that the final reductions agreed today for some species will undoubtedly cause further difficulties for our fishing fleet.
"However, we do welcome the commitment given by the commission to support pilot fishing trials in the lead-up to the forthcoming discards ban, which will enable the fleet to innovate and develop workable future fishery management plans."