Nat Fraser caught hiding mobile phone in prison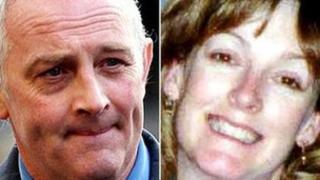 Convicted wife killer Nat Fraser has had four months added to his life sentence after a mobile phone was found hidden between his buttocks in prison.
Fraser, 54, has twice been convicted of hiring a hitman to murder his estranged wife Arlene, who vanished from her home in Elgin, Moray, in April 1998.
He lost an appeal in October.
Appearing at Livingston Sheriff Court, Fraser admitted that he had been in possession of the phone at Addiewell prison in West Lothian.
The court heard Fraser hid the mobile in a bid to avoid it being found during a search of his cell.
Sheriff Graeme Fleming QC told Fraser: "There are good and well known reasons why mobile phones are prohibited in prison."
Fraser was found guilty of murder in 2003 and jailed for at least 25 years but started a lengthy appeal process which led to a retrial.
He was found guilty of murder for a second time last year.
The sentence was a minimum of 17 years.