Sir Ian Wood's £50m for Aberdeen transformation set to be rejected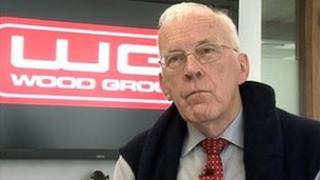 A £50m offer from businessman Sir Ian Wood to redevelop the Aberdeen city centre is set to be rejected by the council.
Sir Ian had said the money would be on the table until the end of the year to help fund a "transformational" project.
However, councillors will be told this week that the authority's plans for city centre regeneration will not be finalised before then.
Plans to overhaul Union Terrace Gardens have been a controversial issue.
A £140m design to transform the gardens was rejected by the council last year.
In August, new proposals for a major renovation of the gardens were unveiled.
Architect John Halliday's design would partly raise the sunken gardens, and see the rail line and Denburn dual carriageway covered over to link to Belmont Street.
The council's SNP group leader, Callum McCaig, said the saga had made the city a "laughing stock" for many people.
He said: "It's extremely regrettable that Sir Ian Wood's £50 million is to be taken off the table because the council can't provide him with an answer."