Scottish fishing industry warning over days at sea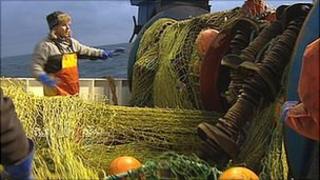 A further cut in the number of days Scottish boats spend at sea will not be acceptable, industry leaders have warned.
It came as fish quota talks got under way in Brussels.
Scottish Fisheries Minister Richard Lochhead and his UK counterpart George Eustice will take part in the negotiations.
The Scottish government said securing a freeze in the days at sea allowance was its priority.
However it will be the new year before most of the quotas for the Scottish fleet are fixed, because of ongoing talks between the EU, Norway, Iceland and the Faroes.
Mr Lochhead said: "This week's Fisheries Council in Brussels is absolutely crucial in determining the health of Scotland's fishing industry next year.
"In 2012 Scottish landings were worth £466m, demonstrating the value of the industry to Scotland and to our coastal fishing communities in particular.
"I will again demand a freeze in the days at sea that are allocated to Scotland."
Bertie Armstrong, of the Scottish Fishermen's Federation (SFF), said it was vital that days at sea were not be reduced.
SFF chief executive Bertie Armstrong said: "The big thing that will be decided we think is if we have an effort reduction.
"The plea we have given to our ministers is you cannot come back with a reduction in days at sea."