Aberdeen hospital consultants issue 'critical' warning over services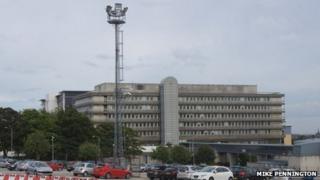 Senior medical staff in the north east of Scotland have warned that services in key areas are at breaking point.
More than 20 consultants at Aberdeen Royal Infirmary (ARI) have written to NHS Grampian's board, saying the situation is "critical".
The general and vascular surgeons said years of underfunding had hit staffing levels and led to delayed operations.
NHS Grampian said work on reconfiguring services at ARI had not yet been finalised.
It said senior clinicians were involved in discussions.
The reconfiguration includes reorganising space at the hospital in an effort to ensure it "runs more efficiently and effectively".
The consultants also claimed patients were being moved outside the NHS Grampian area for surgery, to meet waiting time targets.
They have further concerns that there could be a cut in the number of beds at the hospital.
'Cumulative effect'
Aberdeen Royal Infirmary consultant surgeon Prof Zygmunt Krukowski told BBC Scotland that underfunding had had "a cumulative effect" on services over several decades.
He highlighted consultants' concerns over Grampian's share of a national funding allocation formula through which health boards receive funding based on their area population and geographic and demographic factors.
He said: "There has been a formula for funding in Scotland which has disadvantaged the Grampian population.
"Putting it in simple terms, we have 10% of the population of Scotland in Grampian and we have been getting 9% of the funding for over 30 years.
"Now in any one year you can cope with that but you can imagine that there's a compounding effect over the years.
"The problem is that we are simply not adequately resourced."
Prof Krukowski warned the funding formula had had a major impact on staffing and the "quality and fabric" of the hospital.
'Inadequate beds'
He added: "The problem which affects patients the most is longer waiting times.
"They have to be moved outside of Aberdeen to get treatment because we lack the capacity to deliver it.
"Patients in the hospital are moved around repeatedly because there are inadequate beds in any one location and the patients may have to wait to get a bed.
"It's got a knock-on effect on operating lists so patients may be cancelled simply because there are delays in finding them accommodation.
"So there are a number of day-to-day practical issues which are symptomatic of the ongoing issue."
'Difficult for patients'
In a statement, NHS Grampian said a UK-wide shortage of oncologists was affecting certain cancer services in Grampian.
It continued: "Efforts to recruit to vacant posts are ongoing, but in the meantime a small number of patients are having to be referred to other Scottish NHS boards for treatment.
"We will continue to provide as much follow-up and side effect care locally as possible, and it is our intention to re-establish a full service in Grampian as soon as possible."
The statement added: "We understand it is very difficult for patients and their families.
"This is not a position we would choose to be in, and apologise unreservedly to those involved.
"It is worth noting, however, that for a small number of specialist procedures patients have always had to be referred elsewhere."
The board said it was "in constructive dialogue" with the Scottish government health directorate "regarding further progression" of its share of the national funding allocation.
A Scottish government spokesman said Health Secretary Alex Neil had sought assurances from NHS Grampian that it was working to ensure the best outcomes for patients.