Super Puma fatal accident inquiry: Helicopter 'fell like a torpedo'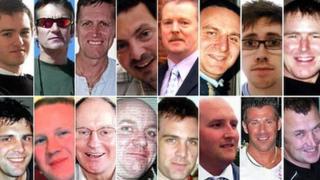 A seaman who saw a helicopter crash "like a torpedo", killing 16 men, has told a fatal accident inquiry the rotor blades came down several seconds after the fuselage of the Super Puma.
In a statement to the first day of the inquiry into the 2009 crash, Normand Aurora crewman Lidvar Olav Hildre said he heard the helicopter fly over his ship followed by a sudden silence.
He saw "an oblong shape falling like a torpedo into the sea".
Four rotor blades then landed.
The statement read: "There was a big splash then white smoke.
"I saw four black rotor blades falling out of the sky. It fell to about the same place."
The ship then launched a fast rescue boat to the scene, where eight bodies were found floating on the water.
Earlier, the sheriff refused a bid for technical logs to be produced for all Bond helicopters operating out of Aberdeen at the time of the Super Puma crash.
The FAI was told a fault on the main gearbox was detected on 23 March 2009, eight days before the crash.
The inquiry heard there was an initial view it should be replaced.
It was not, and an investigation found it was the reason for the crash.
The inquiry was asked to compel Bond to produce the documents to help determine whether workload was the reason the gearbox was not replaced.
Derek Pyle, Sheriff Principal for Grampian, Highlands and Islands, refused the application.
All 14 passengers and two crew lost their lives in April 2009, when the Bond helicopter came down in the North Sea.
Relatives have said the FAI had been a "long, long time" coming.
The inquiry, which is being held in Aberdeen Town House, is expected to last six weeks.
The sheriff principal has said his determination will be released as early as possible.
An Air Accidents Investigation Branch report blamed a catastrophic gear box failure for the crash, which happened 12 miles off Peterhead and left no survivors.
Safety paramount
A police investigation ended with the Crown Office deciding there was insufficient evidence for any prosecutions - a decision that angered families of the victims.
Eight of those who died came from the north east of Scotland, seven from the rest of the UK, and one from Latvia.
Audrey Wood, who lost son Stuart, 27, from Aberdeen, told BBC Scotland before the FAI got under way: "It has been a long, long five years. The suffering is exceptional, the families should not have had to wait this long.
"The FAI is used as a fact-finding inquiry, we look at it as a fault-finding inquiry.
"Hopefully we will get answers. Safety should be paramount."
She added: "Woody was always a fun-filled guy, very family-orientated. We dearly miss him."
The two crew who died were Capt Paul Burnham, 31, of Methlick, Aberdeenshire, and co-pilot Richard Menzies, 24, of Droitwich Spa, who worked for Bond Offshore Helicopters.
The KCA Deutag employees killed were Brian Barkley, 30, of Aberdeen; Vernon Elrick, 41, of Aberdeen; Leslie Taylor, 41, of Kintore, Aberdeenshire; Nairn Ferrier, 40, of Dundee; Gareth Hughes, 53, of Angus; David Rae, 63, of Dumfries; Raymond Doyle, 57, of Cumbernauld; James John Edwards, 33, of Liverpool; Nolan Goble, 34, of Norwich, and Mihails Zuravskis, 39, of Latvia.
The other victims were James Costello, 24, of Aberdeen, who was contracted to Production Services Network (PSN); Alex Dallas, 62, of Aberdeen, who worked for Sparrows Offshore Services; Warren Mitchell, 38, of Oldmeldrum, Aberdeenshire, who worked for Weatherford UK; and Stuart Wood, 27, of Aberdeen, who worked for Expro North Sea Ltd.