'Bullying' protest at University of Aberdeen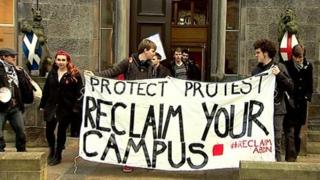 Dozens of students have staged a sit-in at the University of Aberdeen as part of a national day of action about claims of bullying tactics.
Organisers said about 40 students occupied the King's College Conference Centre overnight until 09:00.
It is claimed students could be penalised for supporting trade unions in strike action over staff pay.
The university said it would not wish to constrain peaceful and legal protest.