Begging by-law going before Aberdeen City Council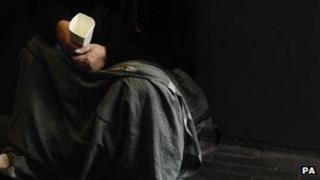 Plans to outlaw begging on the streets of Aberdeen will come back before councillors next week.
The Labour-led administration delayed introducing a by-law earlier this year, following opposition from the Scottish government, which would have to approve the plans.
Police Scotland has also voiced its opposition to the by-law proposal.
But councillor Willie Young said it would be enforceable.
He told BBC Scotland: "What we really want to do is help the most vulnerable.
"In this day and age, nobody should be begging on our streets.
"However there are people who are doing it for a living, these people we need to progress through the court system, but those that are in desperate need, we need to help."
'Underlying causes'
A Scottish government spokesperson said: "A range of existing criminal laws are in place to prosecute anyone begging aggressively or behaving in a threatening and abusive way and we support our police and prosecutors in exercising their judgement based on the circumstances before them.
"We consider that a multi-agency approach is best for dealing with non-aggressive begging so that the underlying causes of people begging can be tackled, such as drug and alcohol dependency.
"We do not think criminalising non-aggressive begging is likely to help deal with the underlying causes giving rise to someone begging.
"In line with normal procedures, we will only formally consider any begging by-law proposed by Aberdeen City Council once it is submitted to us and this will only take place after it has been advertised locally and any objections have been received."
A previous attempt to establish similar legislation in the city - considered by councillors in February - failed.
At that time, the homelessness charity Aberdeen Cyrenians said it would only worsen the problems of the vulnerable.