Retail Rocks winners in Aberdeen shut down or move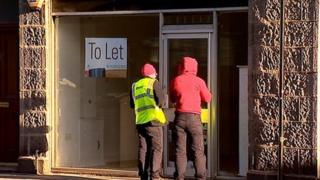 All seven winners of a pilot retail project have now either shut down or moved out of the Aberdeen community where it was launched, BBC Scotland has learned.
The winners of Retail Rocks were given empty shop units rent free for a year in Torry, plus business support.
The scheme, backed by the public and private sector, was the first of its kind in Scotland three years ago.
Supporters say it has still left a legacy in the community.
The aim of the project was to regenerate the local area.
Artist Shelagh Swanson was one of the winners.
As she prepares to open a new studio, she told BBC Scotland: "I had been self-employed for a few years, but needed that next step.
"Retail Rocks was perfect, I was so excited about it.
"It was great at the start, but after about six months I think it all died down.
"Retail Rocks was billed as having a lot of mentorship, but we were left a little bit to our own devices."
Andy Willox, the Scottish policy convenor for the Federation of Small Business and who was on the board of Retail Rocks, said the project came during a retail downturn.
He said a "great job" had been done, and the area has seen improvements such as fitted out business properties, and CCTV cameras.
He said: "All that has made a big difference to Torry."
A Scottish government spokeswoman said: "The project was led by the Aberdeen City Council and the Scottish Government are speaking to the local authority about the issues they have experienced in relation to Retail Rocks sustainability.
"The Scottish Government is committed to doing everything we can to regenerate our town centres and given the recent publication of the Town Centre Action Plan we want to ensure lessons are learned."