Age discrimination case: 'No beauty parade' for former fire chief David Dalziel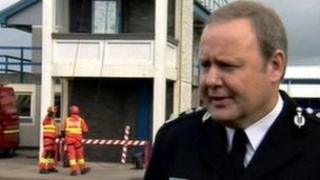 The former head of Grampian's fire service would not take part in a "beauty parade" to be a deputy in the new Scotland-wide service, a tribunal has been told.
David Dalziel, 62, held the Grampian post for eight years.
He applied to become the chief fire officer of the new Scotland-wide service and a number of other posts.
Scottish Fire and Rescue Service head Alasdair Hay said he did not offer Mr Dalziel the deputy job.
Mr Dalziel is claiming age discrimination at the tribunal in Aberdeen.
Mr Hay told the hearing he had met Mr Dalziel for lunch the week after he got the job.
He mentioned that he had been given some "early deliverables" including appointing his senior team.
Mr Dalziel had asked who he had in mind to be his deputy.
When Mr Hay said he was thinking of having two he said Mr Dalziel had asserted that he was not prepared to share it.
Mr Hay said: "He said I'm not prepared to share it with anyone else. I explained my rationale for two and he repeated he wasn't prepared to share it.
"I said I would be absolutely delighted to have you as my deputy but it had to be a process. He said he wasn't prepared to take part in a beauty parade."
The hearing continues.