Erland Flaws jailed after double death crash in Orkney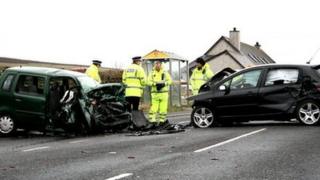 A man convicted of causing the death of two women by driving dangerously on an Orkney road has been jailed.
Erland Flaws, 26, crashed into a vehicle being driven by Moira Towers on the A965 road in February 2012.
Mrs Towers, 65, and passenger Anne Stanger, 64, both from Stromness, died in the crash.
Flaws was jailed for five years at the High Court in Livingston, where a judge said he had brought it all on himself.
The two women had been returning from an evening playing bingo when their car was hit by Flaws, who had been speeding.
Flaws - who has a previous conviction for drink-driving - had strayed onto the other side of the road and struck the car, which was coming in the opposite direction.
Flaws, of Wyre, Orkney, admitted colliding with the car but claimed he was not driving dangerously.
He had told the court: "I feel responsible for the deaths but I don't feel responsible for the accident.
"I regretted it every day of my life and there have been days that I have cried myself to sleep."
Judge John Beckett said: "Whilst you continue to deny your guilt, I accept that you have expressed and felt remorse for the consequences of the accident in which you were involved.
"However, I also recall that when you gave evidence, the greater part of your concern seemed to relate to the consequences that you have suffered.
"You brought all of this on yourself when you chose to drive at excessive speed at night towards a blind summit and a junction which presented hazards obvious to anyone who knew the road, as you did.
"These were wholly innocent people doing ordinary things and yet, with no warning, their lives were ended and their families are left with the enduring pain of their irreplaceable loss."
'Died on anniversary'
The judge added: "Mrs Towers leaves behind a husband who has suffered from anxiety, insomnia and depression as a result.
"Mrs Stanger was married for 46 years and she died on her anniversary. Her husband has been devastated by the loss of his wife and has suffered medical consequences.
"The sentence I will pass is not in any sense a measure of the value of the lives that have been lost.
"There is no sentence that I can pass which can have any impact on the loss and grief felt by two families and the community in which Mrs Towers and Mrs Stanger lived."