Floating Statoil wind farm planned off coast of Peterhead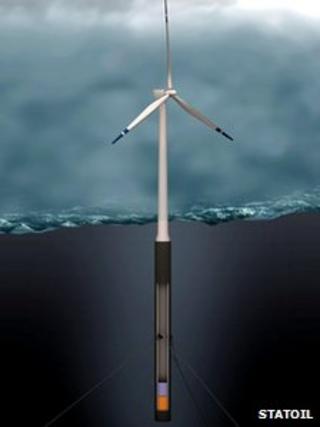 A five-turbine floating wind farm - believed to be Europe's largest - is set to be built off the coast of Peterhead.
The Hywind project will see the five turbines operate in waters several miles from land in a move towards creating an economically viable scheme.
It comes after the Crown Estate granted an agreement to Norwegian firm Statoil.
Scottish Finance Secretary John Swinney has welcomed the deal, saying it was a step towards harnessing a big resource.
Statoil senior vice president for renewable energy, Siri Espedal Kindem, said: "It represents a new step in the development towards a future floating commercial-scale park."
Mr Swinney said: "Scotland has a huge offshore wind resource but to maximise this opportunity we need to move into deeper water.
"The lease agreement awarded to Statoil's Hywind project offers the first step towards harnessing this resource."
WWF Scotland director Lang Banks said: "Successfully developing floating turbines could enable Scotland to secure even more clean energy from offshore wind and help reduce some of the potential impacts associated with traditional seabed-based turbines.
"With careful planning we can harness offshore wind while safeguarding the nation's tremendous marine environment."