Davids gather in Aberdeen for carol record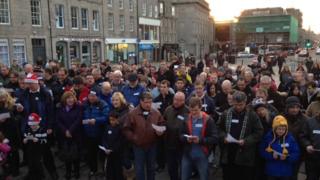 More than a hundred people called David have gathered in Aberdeen city centre to sing a traditional Christmas carol.
Organisers of the event, which coincides with the switching on of the city's lights, said they believe it sets a new record.
They hope the 121 participants will be the largest number of "Davids" to sing "Once in Royal David's city".
The record attempt, part of Aberdeen's Winter Festival, has yet to be officially verified.
Chief executive of Visit Aberdeen Steve Harris said he was thrilled with the response and described the atmosphere as "brilliant".
He said he is considering asking people named "Holly" or "Ivy" to try a similar record attempt next year, singing the carol "The Holly and the Ivy".