Macduff Shellfish buys four scallop boats from Saltire Seafoods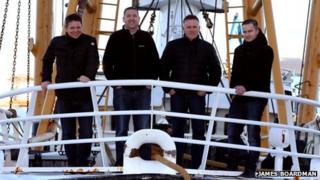 Mintlaw-based Macduff Shellfish has bought four scallop boats from Saltire Seafoods, to be operated out of Dumfries.
The acquisition, from Kirkgunzeon-based Saltire, will see the 25 crew operate under Macduff Shellfish's Scott Trawlers subsidiary.
Macduff Shellfish processes shellfish and exports to Europe and the Far East as well as supplying the UK market.
Chairman Euan Beaton said the company would continue to grow.
'Groundbreaking deal'
He explained: "The acquisition of Scott Trawlers last year was a groundbreaking deal for us, purchasing a whole fleet of fishing vessels for the first time.
"We will continue to buy from other scallop boats and look to expand our innovative financing scheme to help scallop, langoustine, whelk and crab fishermen fund boat improvements, purchases or equipment upgrades.
"We have such financing arrangements in place with nine vessels to date and are looking to grow this.
"The health and sustainability of our fishing sector is key for us as we look to expand our worldwide sales through sustainable and profitable growth."