Gay Aberdeen minister Scott Rennie welcomes Scottish same-sex legislation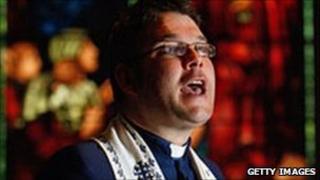 An openly-gay Aberdeen minister has welcomed legislation to introduce same-sex marriage in Scotland being approved in principle by parliament.
The Scottish government's Marriage and Civil Partnership Bill has passed the first of three parliamentary hurdles.
Ministers said the move was right, but the Church of Scotland and Catholic Church are opposed to it.
Scott Rennie told BBC Scotland: "I think the churches could follow that example, and would do well to."
The marriage bill was brought forward after a Scottish government consultation, which produced a record 77,508 responses.
Mr Rennie - whose appointment at Queen's Cross in 2009 caused church tensions - said: "What the parliament has done is offered us space for people to express both views.
"It's offered legislation that's enabling, that allows people to move forward if they want to, but respects and keeps the dignity of those who don't feel they can.
"I think in terms of public opinion, in 10 years it will be a non issue, I really do.
"And I think in 20 years, 30 years, people will be writing a report saying what on earth was all the fuss about."
Same-sex couples in Scotland currently have the option to enter into civil partnerships, and there has been an indication that the earliest gay marriage ceremonies could take place by the start of 2015, if the legislation is passed.
Ministers have insisted no part of the religious community would be forced to hold ceremonies for homosexual couples in churches.