Cornhill Hospital fire in Aberdeen treated as 'wilful'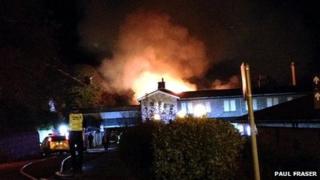 A major blaze at a disused Aberdeen hospital is being treated as "wilful".
Dozens of firefighters were called in to tackle the incident at Royal Cornhill Hospital overnight into Wednesday 6 November.
A Police Scotland spokeswoman said: "An investigation was carried out and the fire is being treated as wilful."
The investigation was delayed as the building suffered structural damage, and experts waited until it was safe.