Sir Ian not on Aberdeen city centre regeneration board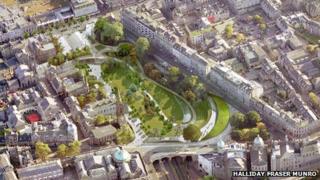 Oil tycoon Sir Ian Wood has declined a place on a board being set up to drive city centre regeneration in Aberdeen.
Aberdeen City Council's plans to overhaul Union Terrace Gardens have been a controversial issue.
A £140m design to transform the gardens, backed with £50m from Sir Ian, was rejected by the council last year.
Sir Ian had left the money in place for a "transformational" scheme, but had later set an end-of-year deadline due to the council's "lack of progress".
Funding hint
In August, new proposals for a major renovation of the gardens were unveiled.
Architect John Halliday's design would partly raise the sunken gardens, and see the rail line and Denburn dual carriageway covered over to link to Belmont Street.
However, following years of debate about how to make improvements, the final design has not yet been confirmed.
In October, it emerged that the council had earmarked £20m to help transform the city centre.
Sir Ian had hinted the Wood Family Trust was still prepared to provide funding for a new heart for the city.
Apart from providing money, the city council had also hoped that Sir Ian would join the new board.
However, it is to meet next month for the first time without him.
The board will bring together councillors, tourism and enterprise bodies and the city's two universities.
Press ahead
Councillor Willie Young, convenor of the authority's finance committee, said the council was looking forward to discussing how to bring forward regeneration within the city with its partners.
He said: "We did offer Sir Ian Wood the opportunity to come on board. He declined that invite.
"However, I think it is important that when the regeneration board meets that they discuss aspects of Sir Ian Wood's money.
"It will be for the board to determine how they take that forward."
The council has previously said that it would press ahead with plans even without the guarantee of Sir Ian's money.
And it has insisted it "would not be a second-class development" if the entrepreneur did not come on board.
Sir Ian retired as chairman of Aberdeen-based oil services firm Wood Group last year.
He had been chairman of the company since 1982 and served as its chief executive between 1967 and 2006.
Sir Ian is currently leading a review of the offshore oil and gas industry for the UK government.