Tribute to Lisa Franklin, 27, killed in Peterhead collision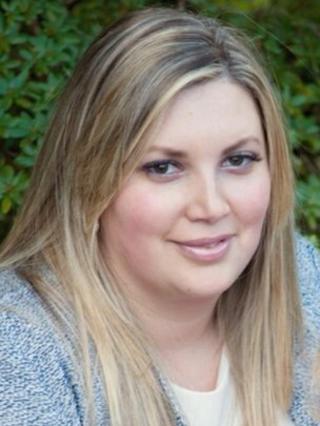 The family of a woman who died in a crash in Peterhead have described her as "loving and wonderful" and "full of hopes and dreams".
Lisa Franklin, 27, died after her car was in collision with a van on South Bay Road on Wednesday.
In a statement, her mother Tracey said her death had "left a great big void".
She added: "She was a happy, caring and bubbly person that had so many plans and dreams for the future."
The 27-year-old is survived by her husband Craig, four-year-old daughter Khloe, her parents, as well as her two brothers and sister.
Her mother said: "Lisa and her husband Craig fulfilled one of those dreams a couple of weeks ago in taking their darling daughter Khloe to Disneyland in Florida. We are so happy that she got to do that.
"Lisa's life was Craig and Khloe, spending time with her sister and brothers, and her nana 'nanakins', who she loved to take to see Manchester United games.
"The sudden, tragic loss of Lisa has left us all numb and left a great big void in our lives - one that we will never get over."