Hum collector seeks childhood memories for installation in Aberdeen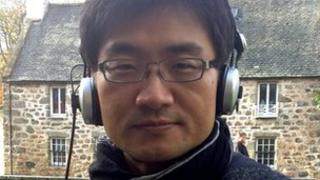 People are being asked to hum a tune which brings back childhood memories as part of a music project created by a University of Aberdeen lecturer.
Dr Suk-Jun Kim hopes to collect hundreds of hums to create a public sound installation.
Aberdeen Humming is due to take place from 14 to 30 November.
Dr Kim, a lecturer in electroacoustic music and sound art, said humming was "a personal, intimate act".
He added: "This project is designed to examine the relations between people and places, and how a person's memory plays a role in this.
"Usually when people hum it is either to themselves or perhaps to a loved one, maybe to soothe a child.
"Offering hums to others means that you are inviting others to enter your personal space."
He has already collected a large number of contributions through a "humming booth" at an art gallery in the city during the summer.
Now he is planning to collect more in person with the help of a group of music students from the university.
Those taking part are being asked to hum a tune that reminds them of their early years.
Dr Kim added: "It would be great to have as many people's hums included in the composition as possible."